Our expansive pool deck comprises uniquely themed pools: the Pamukkale Pool, the Adventure Pool studded with hangout pods, the restful Lazy River and the Children's Play Pool.
Operating hours
7 am to 8 pm
Address
Village Hotel Sentosa, Level 3
The Pool Deck is inspired by exotic and coastal habitats from around the globe, it takes you from basking in cascading pools of Turkey to drifting off in gentle waves of the tranquil Amazon river. Shared with our sister properties, Village Hotel Sentosa and The Outpost Hotel, spend an afternoon suntanning on our wicker day beds made for two or cool off with a dip in any of our uniquely themed pools: Pamukkale Pool, Adventure Pool, Lazy River Pool and Children's Play Pool.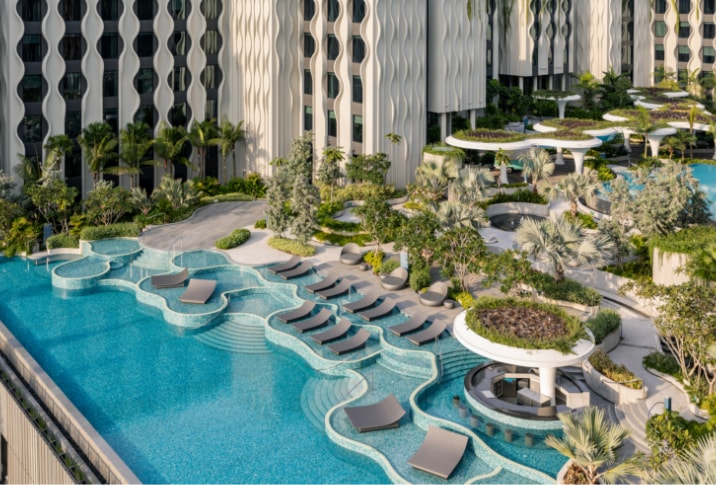 Pamukkale Pool
Inspired by the surreal silver terraces and crystal-clear waters of the Pamukkale pools in Turkey, our Pamukkale Pool features unique pool terraces that overlook the sea's horizon. Surrounded by silvery leaf foliage and an expansive view of the sea, it is the perfect spot to catch golden hour with your loved one.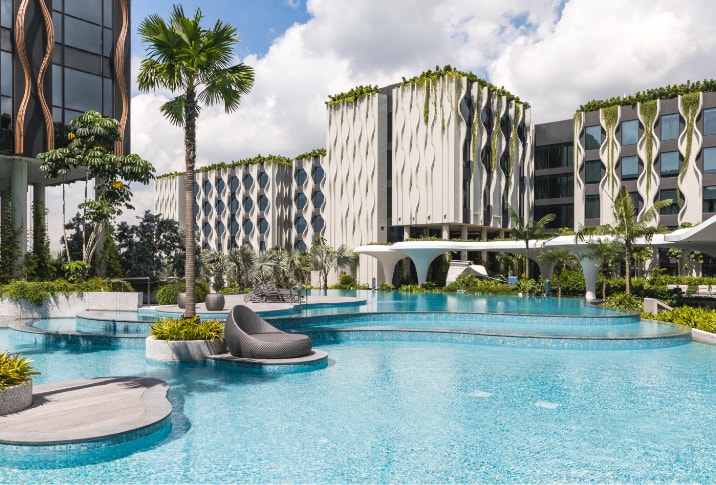 Adventure Pool
Studded with social pods that mimic tiny verdant islands, our Adventure Pool is where you want to be for an afternoon session of sun soaking. Hang out on wicker canopies made for two on your very own private isle.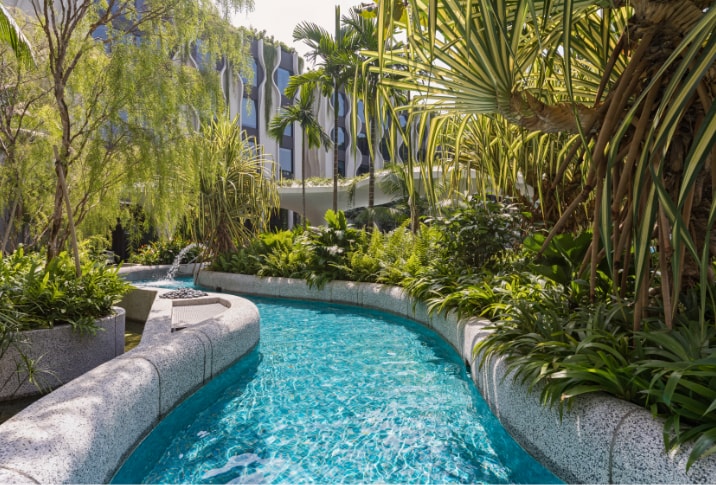 Lazy River Pool
Pick up a donut float and get swept away on the gentle currents of water while surrounded by lush, luxuriant foliage. Travel through the meanders of the Lazy River and feel the light drizzles of water as you pass through the rain curtains.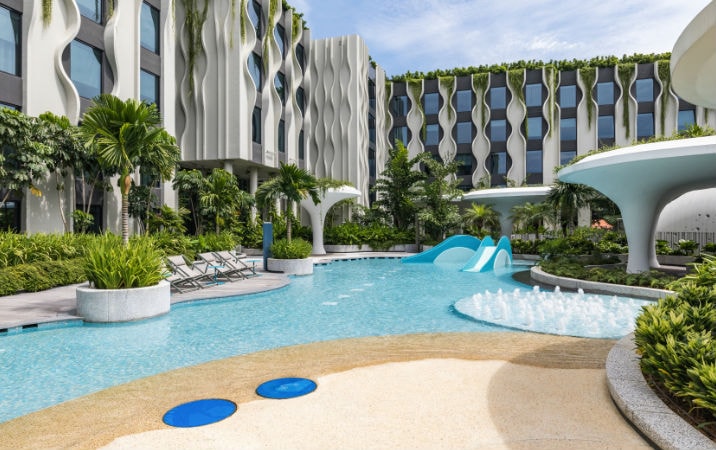 Children's Play Pool
The Children's Play Pool's design mimics a man-made beach with a gentle 'coast' that leads into shallow waters. Complete with slides and water features, the Children's Play Pool is a place the little ones would thoroughly enjoy.
THE BARRACKS HOTEL SENTOSA PROMISE
FAR MORE
ASSURED
Enjoy peace of mind on your trip:

Refundable offers can be changed or cancelled with no charge up to 24 hours before arrival day.
Book direct for the lowest price online.
We have been certified with SG Clean.
Sign up to enjoy an additional 15% off your next stay.